We got a crash course in cancer staging our first few days after Anna's tumor was discovered. We were told that an MRI and CT Scan were needed to determine staging so we scheduled her appointments. Here's a pic that gives an overview of the Stages: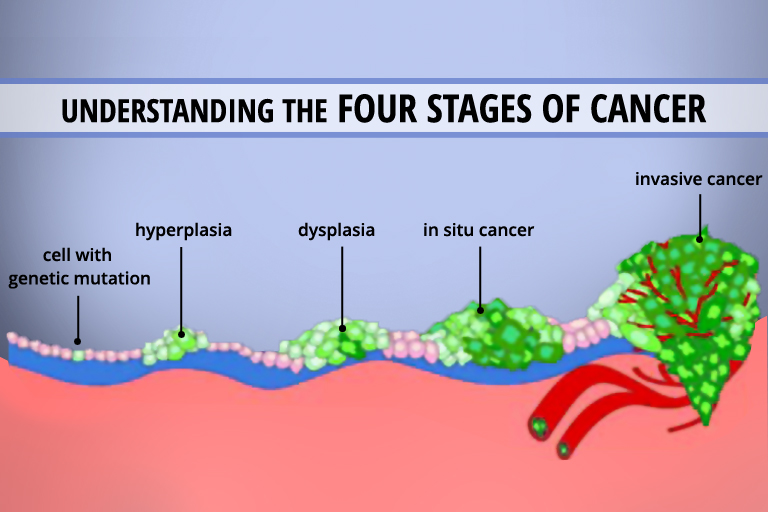 Stage 1 is the hyperplasia; Stage 2 dyplasia; Stage 3 in situ cancer; Stage 4 Invasive cancer
We were hopeful for Stage 1 or 2, as surgery only is standard protocol. We were disappointed to learn from the doctor that Anna has Stage 3 colon cancer. The recommended protocol is 5 weeks of chemo and radiation to shrink the tumor, followed by surgery. As you might imagine, this was hard news for Anna and me both.
The morning after staging was complete and we talked to the doctor, Anna and I did our Pray As You Go together and found these words of Jesus appropriate and comforting:
"I leave behind with you—peace; I give you my own peace and my gift is nothing like the peace of this world. You must not be distressed and you must not be daunted. You have heard me say, 'I am going away and I am coming back to you.' If you really loved me, you would be glad because I am going to my Father, for my Father is greater than I. And I have told you of it now, before it happens, so that when it does happen, your faith in me will not be shaken. I shall not be able to talk much longer to you for the spirit that rules this world is coming very close. He has no hold over me, but I go on my way to show the world that I love the Father and do what he sent me to do." (John 14:27-31 JBP)

"You must not be distressed and you must not be daunted." Those words hung in the air as we listened to the reader say that statement of Jesus. As this reality of staging sets in we are doing our best not to be distressed and not to be daunted. Please continue to join us as we lean on the peace that is nothing like the peace this world offers.